Napomena: ovaj tutorial je napravljen za squad 2 te ga trebate prilagoditi kanalu svoga squada!!!!
Evo jedan moj vodic kako pomocu Pidgin programa doci na IRC kanal Squad2 i biti stalno online dok radi kompjuter ili dok vi to zelite
.Par rijeci o Pidgin-u, Pidgin je multi Instant Messaging/IRC program tj. pomocu njega mozete imati sve vase IM programe u jednom od MSN, ICQ, GTALK, AIM, XFIRE itd. ima ih podosta.Ja ga koristim tako da bih izbjegao koristenje par razlicitih IM programa na ovaj nacin Pidgin to sve radi sam.Pa krenimo sa instalacijom Pidgin-a.Skinite program ovdje
PIDGIN
i instalirajte ga nemojte nista mjenjat u postavkama instalacije.
Nakon instalacije pokrenite program i idite na Accounts pa Manage Accounts ili CTRL+A
Zatim na Add i pod Protocol izabrati IRC
Nakon toga ce se otvoriti prozor za postavke IRC servera.
Pod Username upisete vas eRepublik nadimak.
Server : irc.rizon.net
I spojeni ste na server.
Da bi pristupili squad2 kanalu izaberite Buddies pa Add Chat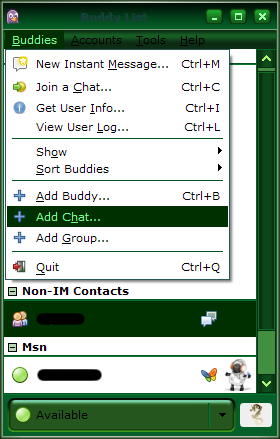 Pod Account izaberite IRC(eNadimak@irc.rizon.net) te upisite sljedece
Channel : #gusteri2
Password : password
Alias : Ime pod kojem cete znat da je to squad2 IRC kanal npr. Squad2 (slobodan odabir)
Group: Kojoj ce grupi pripadat ovaj kontakt npr. Non-IM Contacts (slobodan odabir)
Markirajte "Autojoin when account connects" tako da vam se Pidgin automatski spoji na kanal.
Markirajte "Remain in chat after window is closed" tako da nakon sto zatvorite prozor chata ostanete spojeni i dvoklikom na "Squad2" kontakta vracate se direktno na kanal.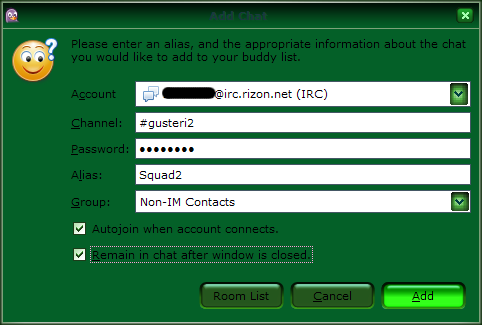 I eto ga spojeni ste za vazda na squad2 IRC kanal...
Napomena
Kada se Pidgin ukljuci prvi put dobivate informacije sa IRC servera to samo zatvorite i normalno otvorite squad2 kanal kao svaki drugi kontakt.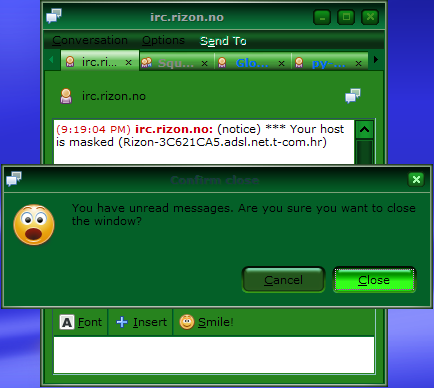 A da bi omogucili Pidgin da starta sa Windowsima idite na Tools pa Plugins ili CTRL+U.Te odaberite Windows Pidgin Options pa configure plugin i markirajte "Start Pidgin on Windows startup".